The development of artificial intelligence (AI) continues to advance, making it more and more accessible to the masses. In this article, I've put together 5 AI apps to help make life a little easier and more fun, from watching YouTube videos to creating creative content.
ChatGPT for YouTube
A free extension for the Chrome browser that provides users with a summary of YouTube videos.
What can be used for:
You need to find key points or information in a long video.
Compare multiple videos on the same topic, such as product reviews or tutorials.
LeiaPix Converter
Allows you to quickly convert 2D images to 3D. The result can be exported to formats: LIF, GIF, MP4, SBS.
What can be used for:
Creative, quality content.
Creation of volumetric textures and backgrounds for games.
Visualization of interiors.
ChatPDF
Allows you to chat with PDF documents. The tool can be used to quickly extract information from large PDF files such as instructions, essays, legal agreements, books, and academic articles. Data is stored in cloud storage and deleted after 7 days.
What can be used for:
Study of scientific articles: quick access to key concepts, definitions and conclusions without having to read the entire document.
Contract and Document Analysis: Instantly extract specific terms, clauses and provisions for verification or comparison with other documents.
Organization of a personal library: interaction with e-books for quick answers to questions.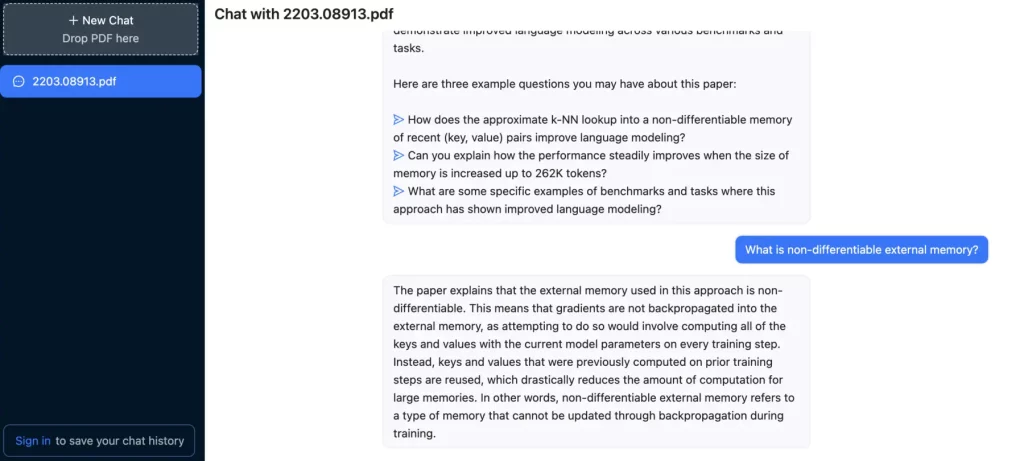 WebscrapeAi
An AI powered tool for automatically collecting data from websites. It does not require technical skills and is suitable for users of any level. Scrapper can collect data from any sites that do not require authentication, however, it is important to make sure that you are not violating the terms of use. The service is not free, but there is a 7-day trial period.
What can be used for:
Gather information about products and prices from competitor websites for market analysis.
Parse news and articles from various sources for analytics or content collection.
Analyze reviews of products or services.
memecam
An application that combines the power of BLIP image recognition technology and signature generation with GPT-3.5.
What can be used for: